New book
Center for the preparation of the "World History" and the Institute of World History of the Russian Academy of Sciences are glad to announce that the final sixth volume of the "World History" in two books was published.
The first book is devoted to the key problems of the 20th century. The part examines demographic and migration processes, the leading trends in the development of the world economy, the specificity of social transformations that took place during the century. Much attention is paid to the main aspects of the development of world culture, the problems of science and education, the changing role of religion in the life of the individual and society. The development of regions after the WWI and up to the WWII is analyzed through the prism of transnational and global history.
The second book of the final volume includes an analysis of the history of the Second World War: its genesis, acting forces, key events and significance for humanity. Issues related to the Cold War period and the formations of the post-war bipolar world are also examined. The formation and disintegration of the world socialist system, the appearance on the political map of African and Asian states, the emergence of the phenomenon of regional integration and the clash of a rapidly globalizing world with new challenges are analyzed.
Editorial Board: Аlexander Chubaryan (executive editor), Mikhail Lipkin (deputy editor), Velikhan Mirzekhanov (deputy editor), Apollon Davidson, Natalia Egorova, Stepan Eliseev (secretary-in-charge), Andrey Larin (secretary-in-charge), Anna Matveeva, Olga Okuneva, Evgeniy Sergeev, Vladimir Sogrin.
World History. V.6. The world in the XX century: the era of global transformations. Book. 1 / Ed. A.O. Chubaryan. Moscow, NAUKA. 2017. 690 p. – ISBN 978-5-02-040051-1 (In Russian)
World History. V.6. The world in the XX century: the era of global transformations. Book. 2 / Ed. A.O. Chubaryan. Moscow, NAUKA. 2018. 642 p. – ISBN 978-5-02-040060-3 (In Russian)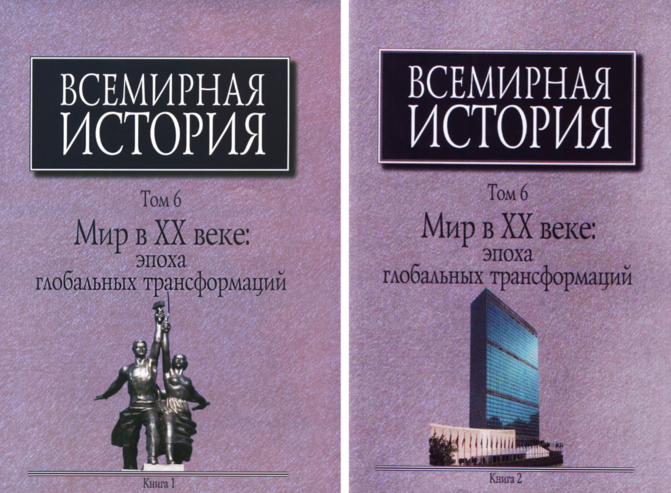 08 Jun 2018